One of the ways you can keep your bike riding smoothly is by giving it a good cleaning, both inside and out. Overhauling a bottom bracket will most likely not be in your weekly cleaning regimen and depending on how you ride, you might not even have to really look at it too much. But it is a good thing to know how to do when the time comes.
For this task, you will need several things:
Crank puller
17 mm open end wrench
Adjustable wrench
Bottom bracket wrench
Pin Spanner
Hooked lockring wrench
36 mm wrench
Solvent
Grease
Keep rags on hand so that you can keep your hands and your bike clean. Small trays or containers are also handy when you take out the parts, and especially the ball bearings, so that you won't lose them. And buying ball bearings can be a pain in the ass.
When you've got the lock ring off, make sure to check for wear on your spindle and on your ball bearings.
Here's a pitted ball bearing: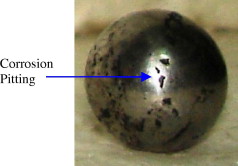 And here's a pitted ball bearing race. If you see this, replace immediately.